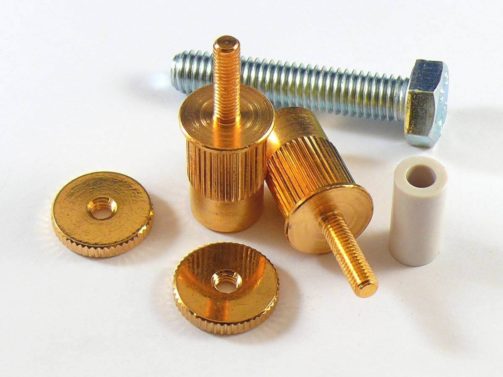 What's this for?
NEW! Now in German Bell Brass for the most vintage correct tone!
Most Epiphone guitars
Many non USA made guitars
Most innovative solution available for guitars using the Epi style bridge system!
See image below to determine if the E-Sert is right for your guitar
Be sure to measure the depth of the bridge stud hole prior to installation of the E-Sert™
SPECIFICATIONS:
Material: Studs, German Bell Brass, plated; Thumbwheels, Brass, plated
Weight, with thumbwheels: 1.677 oz./47.55g
Overall length: 1.42" / 36.05mm
Length below flange: .78" / 19.85mm
Stud length, above flange: .59" / 15.08mm
Thread pitch: 4M x .7
Diameter, knurled section: .484" / 12.2mm
Diameter, below knurled section: .454" / 11.55mm
Flange diameter: .565" / 14.35mm
Flange thickness: .044" / 1.1mm
Thumbwheels: Diameter – .63″/16mm; Thickness – .11″/2.8mm
Installation Video: Applicable to both E-Sert™ and iNsert™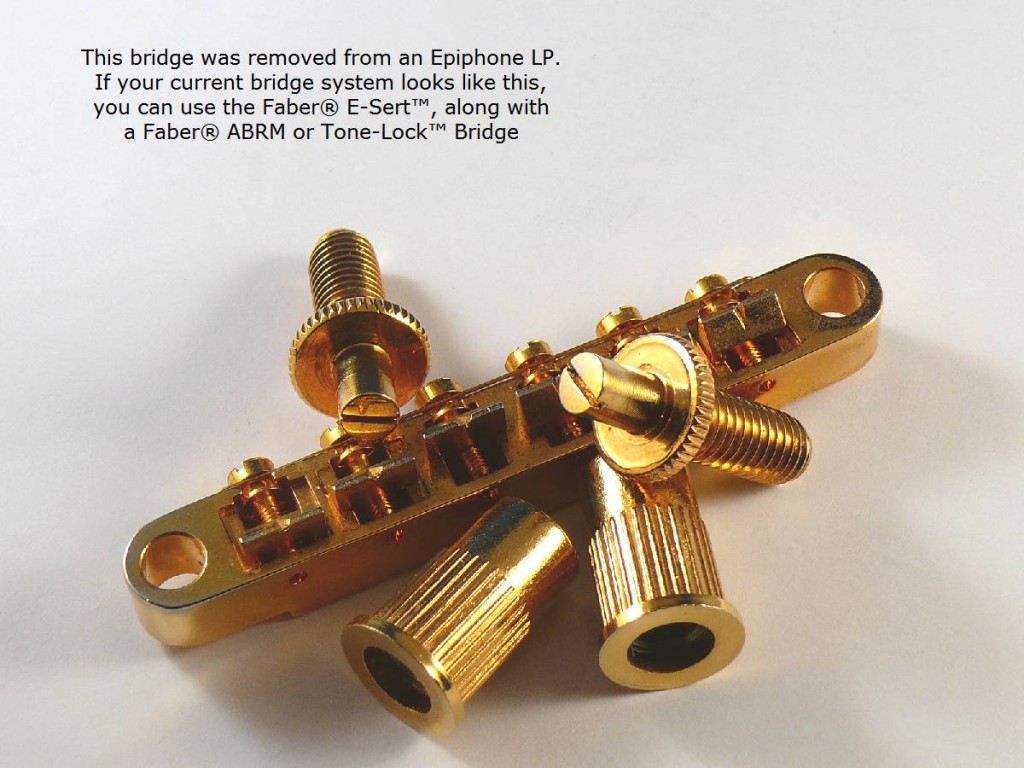 #3160-2 E-Sert™ "German Bell Brass," Gloss Gold conversion bushings, For EPIPHONE, TOKAI, IBANEZ and other imports
$67.00
This easy to install system, with 4mm threaded posts on the upper portion, will allow you to use the Faber® ABR-1 style ABRM model bridge, or the revolutionary ABRL "Tone-Lock" bridge!
Hassle Free Returns!
No questions asked, 30 days return policy
Fast Shipping!
All orders are shipped same or next business day
Secure Checkout!
SSL Enabled Secure Checkout
NO SALES TAX!
On orders shipped outside of Pennsylvania
In stock
NOTE TO MAC/APPLE USERS: If you are using the Safari browser, you may have problems checking out. Please use a different browser, such as Chrome, to check out.
Be sure to measure the depth of the bridge post holes PRIOR to installation of the "PLUS" conversion posts

Only logged in customers who have purchased this product may leave a review.