Over a decade of refinement has made Faber Premium Guitar Hardware upgrades the best in the industry. Made from the finest materials, the Faber® design principal is installation must be simple, with no compromise in performance.
Years of working with serious players has given us insight to what is demanded, and Faber Premium Hardware delivers.
No need to pay a luthier. Most Faber Premium Hardware is easily Player installed. With no special skills or tools, you will enjoy the best possible tone your guitar can deliver.
Ordering is simple. You will be walked through every step to ensure your Faber Hardware is an exact fit for your particular brand and model guitar, and customized to YOUR specifications.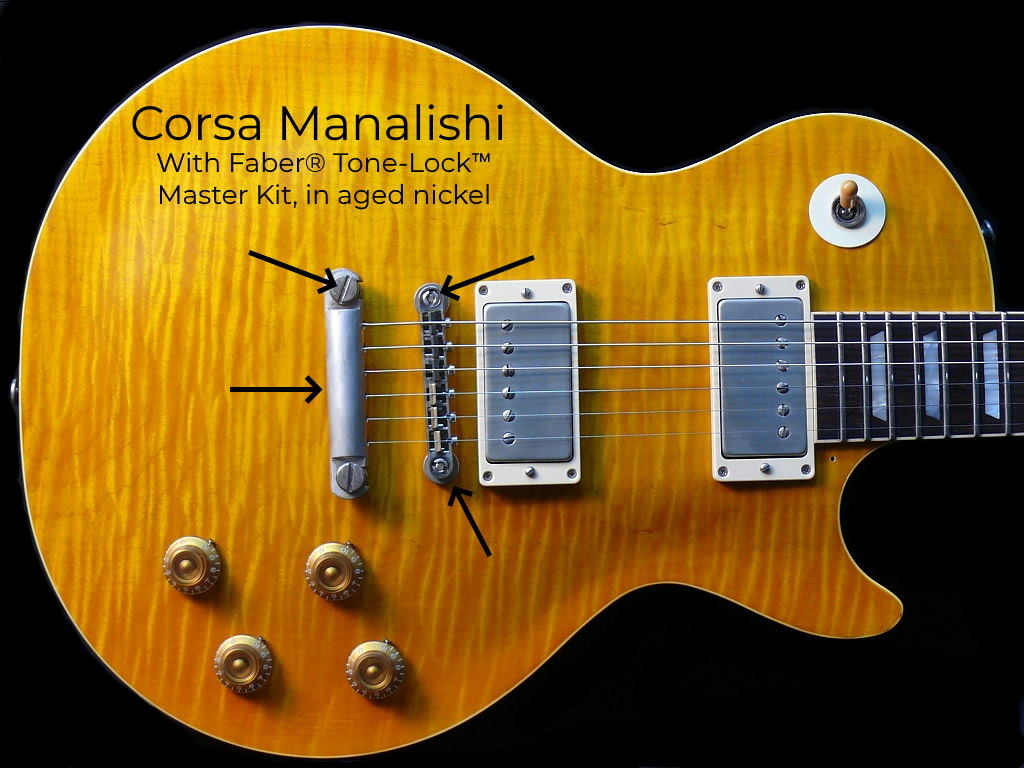 If you can change your guitar strings, You can install a Faber® Master Kit!
Faber® German Guitar Parts
Faber Germany
Faber® German guitar parts are truly "State of the pArt!" They are designed to meet the demands of guitarists who want to get the most out of their guitars, in both convenience and, more importantly, in tone. Faber® guitar parts address the shortcomings of existing products on the market. For example, the leading tailpiece locking studs do little more than just lock the tailpiece to original style studs. They claim more sustain, but look at the design and think about it. Is that system doing any more than what the strings do naturally under tension? Not at all! On the other hand, look at the Faber® Tone-Lock™. Examine the exclusive and innovative "No Gap" technology and you will realize that this system not only locks the tailpiece, but also provides complete and solid contact from the top of the tailpiece stud all the way to the body. The result is an actual, noticeable, real increase in sustain. The effect is virtually the same as having the tailpiece all the way down on the body, which is impossible on most guitars without "top wrapping," because of the steep angle and the problem of the strings touching the back of the bridge. With Tone-Lock™ you get the best of both worlds! This same kind of innovation and thinking can be found in all Faber products. All Faber® parts are of the highest quality, and go through rigorous quality control at Faber-Germany before being offered for sale. Guaranteed! We offer 100% satisfaction on all Faber® parts or your money back – no questions asked!
FaberUSA
FaberUSA is a subsidiary of LOS Corsa, LLC, and is owned and operated by Larry Corsa and family. Larry is well known as a guitarist who lives and breathes tone. When Larry began doing "Peter Green Conversions" to the Gibson® Les Paul Standard Faded back in 2007, as he was searching for hardware to replace the low quality, tone robbing standard hardware used on the Faded. After trying many of the most popular aftermarket solutions, he became aware of the Faber® Tone-Lock™ system, TP-59 lightweight aluminum tailpiece and the series one Faber bridges. After trying these on a Standard Faded, he was blown away by the difference, not only over the standard parts, but also over any of the other well-known supposedly sustain enhancing aftermarket parts. There was no comparison. After using the parts exclusively for several months, Larry was able to acquire the rights to import and distribute Faber® parts in North America. Larry attributes much of the success of his "LCPG" Standard Faded conversions to the Faber® hardware, and it was a "no brainer" that his own line of Corsa Guitars, started in 2011, would feature all Faber® hardware. Larry was able to help Faber® expand their line of parts well beyond the Tone-Lock™, TP-59 and the original bridges to a full line of parts that are the best available today. Input from customers, and an excellent working relationship with Faber®, has led to the development of bridges with removable saddles (all current Faber® bridges), the revolutionary Tone-Lock™ Bridge, and all of the innovative bridge posts currently in the line, making it possible for owners of Nashville equipped guitars to realize their guitar's full potential by using these parts. In addition, the introduction of the Faber® E-Sert™ for replacing the bridge studs on Epiphone and similar guitars, came about because owners of such guitars were clamoring for something to allow them to use Faber® bridges. Larry will continue to listen to the needs of his customers and will always pass on ideas to the experts at Faber®, who will see to it that Faber® always remains "State of the pArt!"