Choosing Your Saddle Configuration
(Note: ALL Faber® bridges have Pre Notched Saddles standard. After choosing your saddle configuration, you may also choose to have saddles WITHOUT notches installed)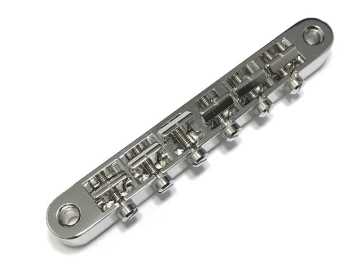 Nickel Plated Brass Saddles
Nickel Plated Saddles standard on all nickel plated bridges. Unplated natural brass saddles on all gloss or aged nickel plated bridges. There is no tone difference between nickel plated brass and natural brass. Choose for cosmetic preference. Note: Nickel plated saddles not available with Gloss or Aged Gold bridges.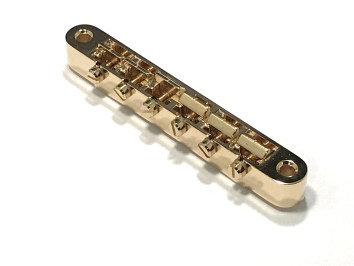 Natural Brass Saddles optional on nickel plated bridges. Gloss and Aged Gold bridges are standard with polished brass saddles which match the gloss gold bridge finish. Non pre-notched natural brass are unpolished. Nickel plated brass saddles NOT available on gloss or aged gold bridges.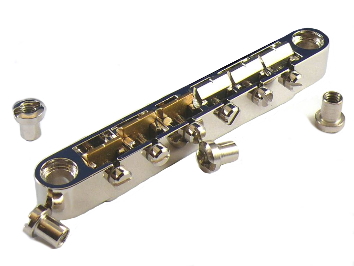 HYBRIDge™ Option – a Faber® Exclusive! Adds 3 titanium saddles for the wound E-A-D strings, resulting in a much clearer tone, eliminating any muddiness often heard from the wound strings. Choose from 3 Titanium/3 Nickel Plated (nickel plated bridges only), or 3 Titanium/3 Natural Brass. Image shows the effect with 3 Titanium and 3 Natural Brass Saddles. Recommended for ALL guitars!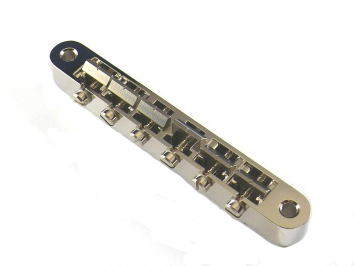 All (6) Titanium Saddles. Titanium saddles provide a tighter, brighter tone. Recommended for guitars that are a little too dark sounding on all strings. For guitars having a naturally normal to bright tone with the current bridge all titanium is not recommended, as an already bright sounding guitar may sound TOO bright on the plain strings. For the latter, we recommend the HYBRIDge™, as that configuration will benefit any guitar.