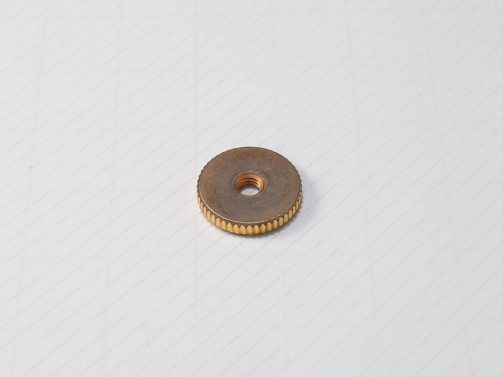 Faber® Thumbwheel. Nickel plated over brass. Thread fits Faber® Imperial 6-32 bridge posts, or any guitar using Gibson ABR-1 bridge posts (vintage Gibson before Nashville bridges, Custom Shop Gibson, and certain year Gibson Les Paul Classic). Sold EACH (one piece). Order 2 if you need for two bridge posts!
#3131-3 Thumbwheel, Aged Gold (INCH), Single Pieces
$7.75
What's This For?
Single Thumbwheel for Faber® 6-32 bridge studs
Any Gibson ABR-1 bridge studs
Sold EACH (one piece)
Order TWO if you need for 2 bridge posts (one piece)
Hassle Free Returns!
No questions asked, 30 days return policy
Fast Shipping!
All orders are shipped same or next business day
Secure Checkout!
SSL Enabled Secure Checkout
NO SALES TAX!
On orders shipped outside of Pennsylvania
NOTE TO MAC/APPLE USERS: If you are using the Safari browser, you may have problems checking out. Please use a different browser, such as Chrome, to check out.
Only logged in customers who have purchased this product may leave a review.