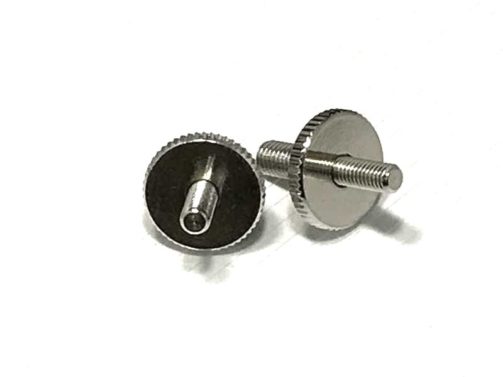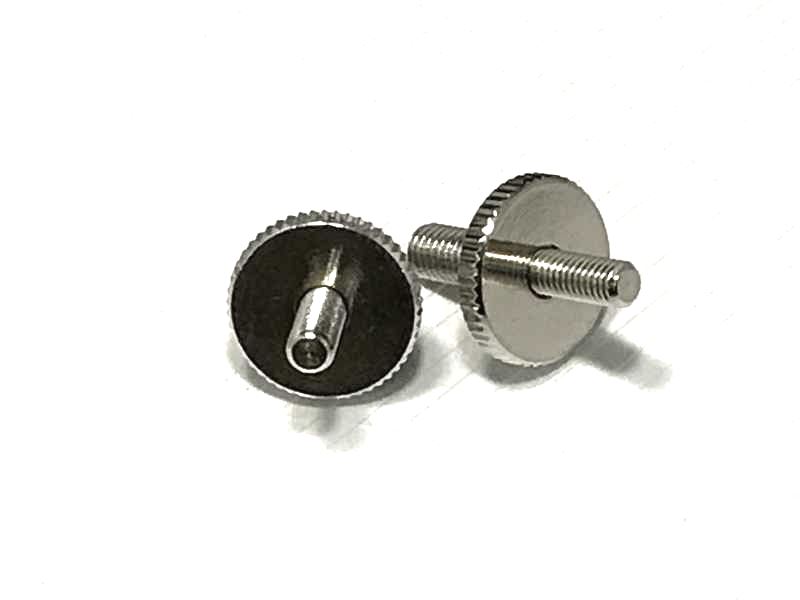 What's This For?
Replacement bridge studs for 2017- present Gibson USA model guitars with ABR-1 bridges and Bushing Mounted Bridge Posts
NOT FOR Gibson Custom Shop, vintage Gibsons, or Gibson guitars with Direct Mounted Bridge Posts
Works with Faber® ABRH bridge, Tone-Lock™ Bridge or Gibson ABR-1 bridge
Simple remove & replace – no modifications necessary!
SPECIFICATIONS:
Material: Studs, Steel, plated; Thumbwheels, Brass, plated
Weight, pair: .462 oz./13.1g
Overall length: .945″/24mm
Lower portion: Thread pitch – 5M x .8; Length – .472″/12mm
Upper portion: Thread pitch – 6-32; Length – .36″/9.2mm
Thumbwheels: Diameter – .63″/16mm; Thickness – .11″/2.8mm
#3052-0 "EZ" USA/ABR-1 conversion posts, Gloss Nickel
$36.00
Our "EZ" to install ABR-1 conversion posts – replaces existing bridge posts without modification! These superior posts are threaded, unlike the unthreaded upper portion of the original posts. The threading allows the installation of the Faber® Tone-Lock™ bridge. These posts also allow the installation of the advanced "no wire" Faber® ABRH bridge, or you can use your original Gibson ABR-1 bridge.
Hassle Free Returns!
No questions asked, 30 days return policy
Fast Shipping!
All orders are shipped same or next business day
Secure Checkout!
SSL Enabled Secure Checkout
NO SALES TAX!
On orders shipped outside of Pennsylvania
In stock
NOTE TO MAC/APPLE USERS: If you are using the Safari browser, you may have problems checking out. Please use a different browser, such as Chrome, to check out.
Be sure to measure the depth of the bridge post holes PRIOR to installation of the "PLUS" conversion posts

Only logged in customers who have purchased this product may leave a review.