Choose The Tone-Lock™ Bridge For Your Gibson Guitar
Heritage Owners, Choose, "Gibson Nashville Bridge...," For Your Tone-Lock™ Bridge
There are three different types of Tone-Lock™ Bridges available for your Gibson guitar with a "Tune-O-Matic" Bridge, or Heritage guitar with Schaller bridge. The type you need is determined upon how the bridge mounts on your guitar. Inspect these images to see which type you have.
Please note: Because Gibson USA/ABR-1 and Nashville (including Heritage with Schaller bridge) bushing mounted posts do not have threads on the upper bridge posts, Faber® conversion bridge posts are required to mount the Tone-Lock® Bridge included in all Faber® Master Kits. Gibson ABR-1 with Direct Mounted Posts (Vintage/Custom Shop/1990-2003 LP Classic) do not require conversion posts.
2017 and later Les Paul Traditional, some 2017-2019 LP Standard & Classic, 2020 "The Original Collection" LP, SG & ES series.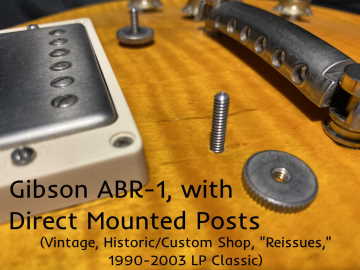 Used on vintage Gibson guitars from 1957 through 1974, Historic/Custom Shop & various "Reissues", 1990-2003 Les Paul Classic.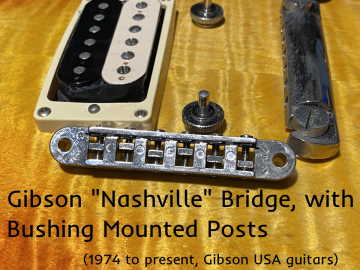 Replaced ABR-1 on all Gibson guitars starting circa 1974. Still in use on many Gibson USA guitars, including 2020 Flying V/Explorer/Firebird.