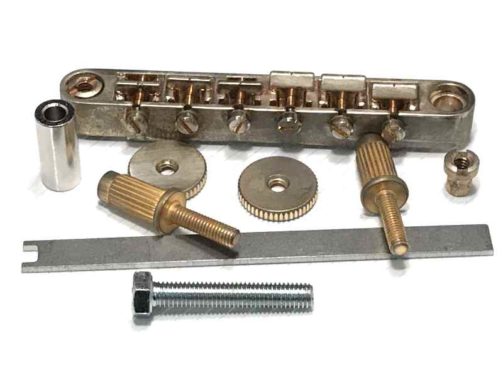 What's this for?
Standard in this Tone-Lock™ Bridge Kit
#3031-5-PLUS USA/ABR-1 Tone-Lock™ Bridge, Aged Gold
From: $161.00
Light years ahead of the usual "set screw" method of locking a bridge to the studs, one look at our system will show its design superiority and how it actually can increase sustain!
Pre notched NICKEL PLATED BRASS SADDLES standard. Other saddle configurations optional
Hassle Free Returns!
No questions asked, 30 days return policy
Fast Shipping!
All orders are shipped same or next business day
Secure Checkout!
SSL Enabled Secure Checkout
NO SALES TAX!
On orders shipped outside of Pennsylvania
Be sure to measure the depth of the bridge post holes PRIOR to installation of the "PLUS" conversion posts

Customize Your Tone-Lock™ Bridge with the below Options and Upgrades

NOTE TO MAC/APPLE USERS: If you are using the Safari browser, you may have problems checking out. Please use a different browser, such as Chrome, to check out.
Only logged in customers who have purchased this product may leave a review.