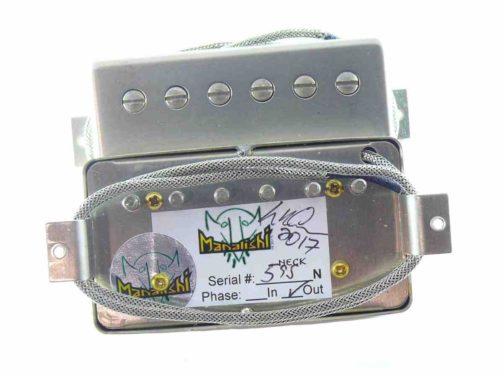 The DEFINITIVE Peter Green Mod Pickup Set! Manalishi pickups are used exclusively in my Corsa Guitars, and on many of the "Peter Green Mod" conversions I've done on hundreds of Les Paul Standard Fadeds and others. Check my webpages (corsaguitars.com) to hear many examples of these pickups. Guaranteed to provide the truest and most accurate Peter Green out of phase tone available in a humbucking pickup.
Available in zebra or double black, with optional aged or bright high quality solid nickel covers, or gold plated solid nickel. Manalishi are NON-POTTED, just like a vintage PAF!
NOTE: Price is PER SET (both pickups). NECK pickup magnet polarity reversed by default ("PG Mod"). Select "In Phase" option if you do not want the "PG Mod." Note: Certain bobbin color configurations, 4 wire pickups and certain cover selections MAY delay shipping for approximately 7-10 days, based on current stock
Original Manalishi™ Pickup Set
$300.00
Hassle Free Returns!
No questions asked, 30 days return policy
Fast Shipping!
All orders are shipped same or next business day
Secure Checkout!
SSL Enabled Secure Checkout
NO SALES TAX!
On orders shipped outside of Pennsylvania
NOTE TO MAC/APPLE USERS: If you are using the Safari browser, you may have problems checking out. Please use a different browser, such as Chrome, to check out.
Only logged in customers who have purchased this product may leave a review.