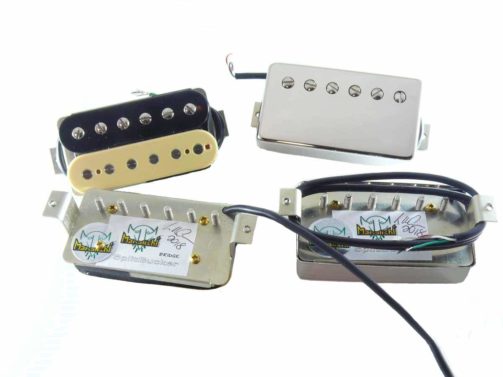 A unique and exclusive Corsa creation! After having done the "Jimmy Page Mod" to numerous guitars, whenever I would use the coil split option I would always think, "Why would anyone use this?" While the objective was to get a single coil tone, mostly all you get is the typical single coil 60 cycle hum with a seriously weak and anemic sounding tone.
When I decided to create my "Little Dog" guitar, I wanted it to be a single pickup guitar. I thought about just going the typical "Junior" route and using a PG90 pickup, but I wanted to offer more versatility than that. The Little Dog platform itself was revolutionary for a "Junior," in that the construction is chambered mahogany body with a 1/4″ maple top, producing more resonance and sustain than any Junior ever made. I decided a humbucker would be the way to go, and I could do a coil split with it and (something I had not heard of until then) the "Cocked Wha" tone. But nagging me while thinking about it was the really, in my opinion, useless tone of a coil split humbucker. Think about it. The idea is to try to get a P90, Strat or Tele type single coil tone. But you can't get that when the average output of a humbucking single coil is around 4K ohms. I then thought, why not wind a humbucker with 6K output on one coil, and 2K on the other? Total output would be 8K, which is typical for a humbucker. The result was exactly what I imagined and was looking for! When not split, the pickup sounds exactly like a typical Original Manalishi humbucker. But, when split, a totally different animal than the typical split humbucker. The extra 2k of output puts the SplitBucker in range of a Strat or Tele single coil, but a little less than a P90, but close enough to not make much of a difference. The SplitBucker was born! No one else has anything like it, and, in my opinion, the only real choice for a coil split humbucker. Perfect in every way, for coil splitting, "cocked wah," or phase changing. SplitBuckers are used exclusively on Corsa Little Dog, Big Dog, Big Dog Special (bridge only) and Fury models.
Available in double black or zebra, with optional aged or bright high quality solid nickel covers, or gold plated solid nickel. Manalishi™ SplitBuckers™ are NON-POTTED, just like a vintage PAF!
NOTE: Price is PER SET (both pickups). Choose your options for custom configuration. The 6k coil is the pole piece bobbin. Wiring diagram for how to wire a puch pull pot so that it splits to the pole piece bobbin is available. If your configured pickups are in stock they will ship same or next day. If NOT in stock expect the pickups to ship approximately 7-10 days after order.
Manalishi™ SplitBucker™ Pickup Set
$300.00
Hassle Free Returns!
No questions asked, 30 days return policy
Fast Shipping!
All orders are shipped same or next business day
Secure Checkout!
SSL Enabled Secure Checkout
NO SALES TAX!
On orders shipped outside of Pennsylvania
NOTE TO MAC/APPLE USERS: If you are using the Safari browser, you may have problems checking out. Please use a different browser, such as Chrome, to check out.
Only logged in customers who have purchased this product may leave a review.