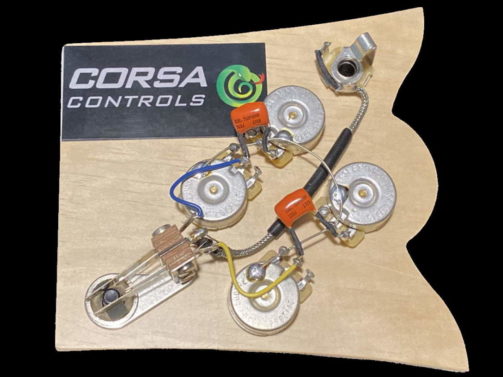 Product Notes:
All pots, regular and push-pull, are U.S. spec for knobs (fine 24 spline).
Gibson, Epiphone, other brands and copies, all use Short Shaft pots
Epiphone and imports need 3/8″ mounting holes for pots. Please ream or drill out the mounting holes to fit these pots.
50's style wiring on all kits, except with optional "cocked wah" push-pull.
Made to order. 1-3 day build time before shipping.
Corsa Controls SG Wiring Kit
$89.00
Hassle Free Returns!
No questions asked, 30 days return policy
Fast Shipping!
All orders are shipped same or next business day
Secure Checkout!
SSL Enabled Secure Checkout
NO SALES TAX!
On orders shipped outside of Pennsylvania
Out of stock
Email when stock available
NOTE TO MAC/APPLE USERS: If you are using the Safari browser, you may have problems checking out. Please use a different browser, such as Chrome, to check out.
Only logged in customers who have purchased this product may leave a review.