Included in this kit:
Tone-Lock™ Bridge
Pair of 4mm lock nuts
TP-59 Lightweight Aluminum stop tailpiece
Tone-Lock™ studs/spacers 8M x 1.25 for all Imports
Lock Nut/Tailpiece Stud Tool – also great for tailpiece studs!
SPECIFICATIONS:
Hover over these links for specifications of items included in this Tone-Lock™ Master Kit:
Optional Bridge and Tailpiece Bushings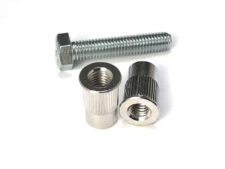 Why do you need this option? Click here to learn why!
#5018 MASTER KIT Gloss Gold, for Epiphone/Imports with Direct Mounted Bridge Posts
$197.00
All Pro Sustainer System™ parts can now be ordered in one convenient "Master Kit," at a 5% discount over buying the parts separately!
Pre notched natural brass saddles standard. Other saddle configurations optional.
Start Building!
Start building your Master Kit by clicking the "Configure" button.