Choose your color, then continue customizing your Master Kit.
All Pro Sustainer System™ parts can now be ordered in one convenient "Master Kit," at a 5% discount over buying the parts separately!

Pre notched nickel plated saddles standard. Other saddle configurations optional.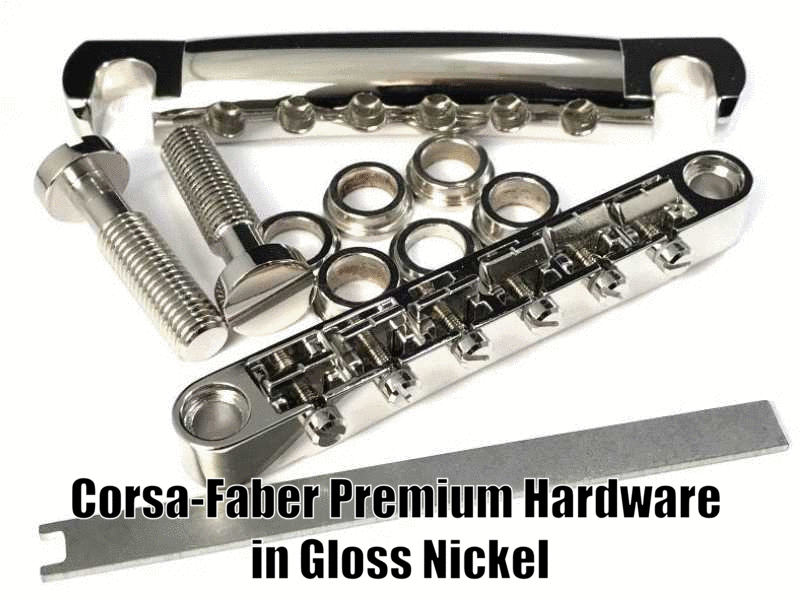 "Larry, got all the parts that you sent installed into my new Firebird. All the new parts looked great, especially the ABR,the saddles fit in their grooves just right. The iNserts fit great, and I love how solid the bridge feels when locked down. Tone-Pros sent me two of their bridges for free, and this Faber Tone-Lock smokes them...
"I just wanted to let you know that I received the bridge kit and I have it already installed on my Les Paul Anniversary Flood... All we needed to hear was the first strum before plugging in to an amp to hear the fullness and sustain. And then, the first strum of an open A through the amp was astounding. I was expecting perhaps a subtle change in tone and some sustain improvements but not the huge boost in everything...
"I wanted to send you a note to thank you for getting the bridge parts out to me so quickly... I originally intended to just drop the ABRN bridge onto the Nashville studs. It went fine, but I am glad I went with the BSWKIT as well. I removed the original slugs installed the stud kit, and the difference in both sustain and the flavor of the tone wood of my 2001 Les Paul is miles better than it was originally.
"A lot of times you don't get what you want -but the bridge that you sent was spectacular! Om Gosh the sustain and brightness of tone. Far out! (child of the sixties) Kick'in, I would recommend to anyone! P.S. I already had the Faber aluminum tail piece on my Heritage Les Paul. the bridge sent it to the next dimension! Found that 59 tone Happy!"
"I have to say, my LP standard has your ABR on it and anyone who plays it RAVES about it. I can't tell you how much the tone improved, even just unplugged when i swapped it out. can't wait to put the ABRN on the custom i just bought! have a great weekend"
"I don't believe the difference this bridge made to a guitar I had almost given up on. She's an early SG Classic with an ABR1. Just couldn't get the tone I expected from the P90s or the feel of the action no matter how I tweaked it. Popped on the Faber, and bang! Twice the acoustic volume, great tight feel, better separation and there's the tone! (more on next slide)
(continued)...I don't rave about many mods, don't buy into the locking bridge deal and never consider leaving well enough alone in that elusive search for perfect tone, but this is the most I've been impressed with a piece in near 50 yrs of playing. Can't believe these aren't as well known out there as they deserve to be. Thanks, I'll be back."
"Hi, Not that you need another testimonial, but I just installed a Tone-Lock ABRL bridge on my cheap-but-fun Chinese-made travel guitar, and holy cow!! did this bridge improve its tone and sustain! I really couldn't be any more impressed. Your bridge took an cheap-but-fun $100 guitar that had relatively poor sustain and transformed it into an actual instrument. Between your bridge, posts, and the locking mechanism, I am now getting more sustain than I could have hoped for…"
"Hi, I received my ABRN Bridge and found it to be really easy to install on my Heritage H-150 Les Paul... ... It only took about 5 minutes to replace the bridge and studs. The weight of your bridge is nice and the details and finish are superb. I was so happy to have the rattling of the loose tension screw on the B string saddle go away with the old inferior bridge, and just love this new bridge. Next up a new ABRH bridge for my 335!"
"Hello. I have an Epiphone Les Paul. I have removed the original bridge bushings and installed the E-sert conversion posts. They fit perfectly. Swapping out the hardware was unbelievable easy. Then I put a wireless bridge over the posts and it fits perfectly. The thumb-wheels move smoothly up and down the threads on the thin posts. I couldnt be happier! Now I'm looking into further upgrades. I'm interested in buying a Faber locking bridge for another project on which I'm using the E-serts."
"I've played guitar for 31yrs, been in professional sales for 18+, – my point is when something goes wrong – people always let you know how you fell short but never how your service and or product excelled. I can't help but chime in to you guys because the service, delivery and most importantly – was so much more than I ever expected. Thank you all – the bridge and tail piece look and sound incredible!!!"
"This is my third Faber ToneLock installation. I have it on both my Les Pauls and of course it sounds great. I finally put a ToneLock Hybridge (brass and titanium) on my 335, which has always sounded somewhat dead and flat, especially when not plugged in. Now this baby rings and the sound is so much fuller... If you have a Gibson, you won't believe the difference! Easy installation, by the way. Thanks, guys!
"...How does it sound? Definitely different. I've tried top-wrapping this guitar in the past, but while it seemed to have more ring and an airier sound, it lost some of the harmonics I like (it actually has a fairly shallow neck angle, so there wasn't a lot of angle across the bridge with the top-wrap). I'd say the sound now seems a little like the best of both – the positives of the top-wrap, without losing those cool harmonics. It also feels like it has more sustain than it's ever had."
"I just wanted to say that the Faber tone lock arrived and is everything that the hype promised it to be. My Les Paul Special sounds and feels like a different instrument … luxurious and piano-like. Thanks for a great product."
"I installed the tone-lock. Guitar sounds amazing. Previously even with the new strings it sounded muddy, now is like an acoustic guitar, full and rich. Important thing is to remove the soft pads between the lacquer (under the finish) and the studs' nuts, to direct contact the rings and the nuts. I don't know why the Gibson put them, they kill the sound."
"I wanted to let you know I've recently installed your Tone-Lock Master Kit on my '96 Gibson Les Paul Custom and I couldn't be happier. Now, it not only looks better, it sounds better! The kit was a breeze to install. Everything I needed was provided and was carefully packaged to avoid damage. The parts all appear to be of high quality, and there were no visible defects."