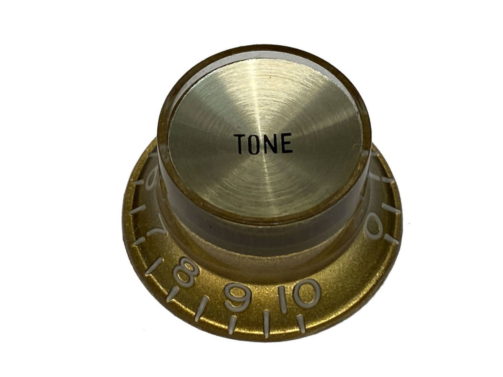 Vintage Style Foil Top Knob, with embossed numbers. These are the type of knobs used on Gibson guitars until 2006, when Gibson switched to an inferior knob of thinner, more fragile plastic, without embossed numbers. These are U.S. spec, 24 spline. Will fit U.S. spec split shaft pots, as used on all Gibson guitars and many other USA made guitars. Also for all pots sold by Corsa Components. RECOMMENDED FOR USE WITH PUSH-PULL POTS!
Vintage Style Foil Top Knob, Gold Tone w/Gold Foil
$3.00
Hassle Free Returns!
No questions asked, 30 days return policy
Fast Shipping!
All orders are shipped same or next business day
Secure Checkout!
SSL Enabled Secure Checkout
NO SALES TAX!
On orders shipped outside of Pennsylvania
Out of stock
Email when stock available
NOTE TO MAC/APPLE USERS: If you are using the Safari browser, you may have problems checking out. Please use a different browser, such as Chrome, to check out.
Only logged in customers who have purchased this product may leave a review.