Sale!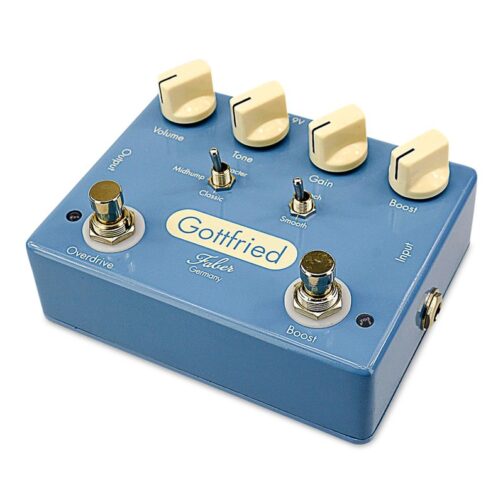 The Gottfried overdrive will put your old TS 808 or TS 9 into retirement forever. Basically, you can do it here with the improved replica of the legendary Tubescreamers.
The sound of "GOTTFRIED" goes exactly in the same direction, but offers much more nuanced sounds. In addition, you now have an adjustable boost switch at your disposal, which amplifies the signal again by 50%, enabling you to really assert yourself on solos.
Other special features include a True Bypass switch, as well as the LED status display for each operating mode.
9V input, via external cable and 9V battery (battery not included) or 9V power supply. Includes four non slip rubber buttons for placement on bottom of pedal.
Gottfried Effects Pedal
INTRODUCTORY SPECIAL!
The "GOTTFRIED" is an overdrive pedal with an additional boost switch and True Bypass function.
Hassle Free Returns!
No questions asked, 30 days return policy
Fast Shipping!
All orders are shipped same or next business day
Secure Checkout!
SSL Enabled Secure Checkout
NO SALES TAX!
On orders shipped outside of Pennsylvania
Out of stock
Email when stock available
NOTE TO MAC/APPLE USERS: If you are using the Safari browser, you may have problems checking out. Please use a different browser, such as Chrome, to check out.
Only logged in customers who have purchased this product may leave a review.