Sale!
Description
Included in this kit:
TP-59 Lightweight Aluminum stop tailpiece
Tone-Lock™ studs/spacers 8M x 1.25 for all Imported guitars
Lock Nut/Tailpiece Stud Tool – use long edge to tighten Tone-Lock studs to prevent marring!
SPECIFICATIONS:
Hover over these links for specifications of items included in this Tone-Lock™ Kit:
Optional Bridge and Tailpiece Bushings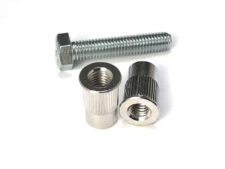 Why do you need this option? Click here to learn why!
#4007 Tone-Lock™ KIT (METRIC) Aged Gold, for HERITAGE, EPIPHONE, and other IMPORTED GUITARS
From: $107.00
Increase sustain, improve tone, AND save 5% with our Tone-Lock™ Kit!