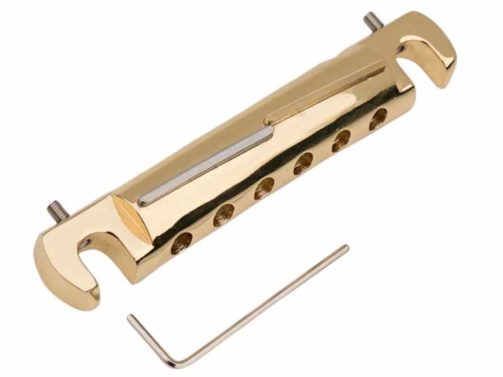 What's This For?
LEFT HANDED Guitars
Guitars using standard tailpiece/bridge spacing
Works for offset or straight across studs
Designed to intonate plain (not wound) G string
Faber® Wrap-Lock™ locking studs or "Vintage Steel" tailpiece studs recommended
Guaranteed intonation – or return for full refund!
One brass, one titanium tone bar
Includes extra pair of short 5mm allen screws>/li>
SPECIFICATIONS:
Material: Aluminum, plated
Overall length: 3.987″/101.27mm
Stud spacing: 3.25″/82.55mm
Stud opening: .32″/8.1mm
Weight, with brass bars: 1.12 oz./31.7g
Weight, with HYBRIDge™ bars: 1.08 oz./30.7g
Weight, with titanium bars: 1.06 oz./29.9g
#3426 LEFT HANDED Tone-Bar™ Compensated Wrap Tailpiece/Bridge Gloss Gold HYBRIDge™
$104.00
For Lefties! At Faber®, innovation never stops! Introducing "Tone-Bar™" – the next generation in compensated wraparound bridges/tailpieces! Utilizing "tone-bars" integrated into the lightweight aluminum body, the Tone-Bar™ compensated wrap provides improved intonation and more precise tone with no chance of dead spots or the "sitar effect."
Hassle Free Returns!
No questions asked, 30 days return policy
Fast Shipping!
All orders are shipped same or next business day
Secure Checkout!
SSL Enabled Secure Checkout
NO SALES TAX!
On orders shipped outside of Pennsylvania
In stock
NOTE TO MAC/APPLE USERS: If you are using the Safari browser, you may have problems checking out. Please use a different browser, such as Chrome, to check out.
Only logged in customers who have purchased this product may leave a review.