Description
What's This For?
Direct replacement for many non U.S.A. made guitars using 4mm bridge posts – nothing else required!
Vintage correct look – no retaining wire!
Will not direct fit on guitars with Large Bridge Posts . To use on guitars with Large Bridge Posts choose Optional Replacement Bridge Posts
SPECIFICATIONS:
Alloy: 70% zinc, 30% aluminum
Net Weight: with brass saddles – 1.75 oz./50g; with titanium saddles – 1.66 oz./47.4g
Length: 3.31″/84.1mm
Saddle radius: 12″
Post spacing: 2.898″/73.6mm
Post hole diameter: .165″/4.2mm
String Spread (center-to-center, outer saddles):
2-1/16″/2.0625″/52.39mm
Optional Bridge and Tailpiece Bushings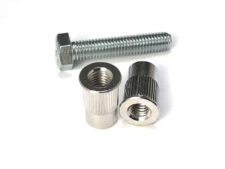 Why do you need this option? Click here to learn why!
Only 3 left in stock. Almost Gone!
#3064 ABRM Bridge Gloss Gold, For Epiphone, Tokai, Ibanez, others with 4mm bridge posts
From: $69.00
The best non-locking bridge for your Epiphone, or other non-USA made guitar with 4mm bridge posts!
Pre notched natural brass saddles standard. Other saddle configurations optional.