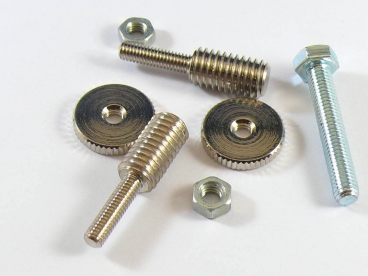 What's This For?
Nashville bridge conversion studs
Works with Faber® ABRN or Faber®Tone-Lock™ Bridge
New builds, where more mass than thin studs (6-32 or 4mm) is desired
Professional installation recommended
SPECIFICATIONS:
Material: Studs, Steel, plated; Thumbwheels, Brass, plated
Weight, pair with thumbwheels: .695 oz./19.7g
Overall length: 1.18″/30mm
Lower portion: Thread pitch – 8M x 1.25; Length: .59″/15mm
Upper portion: Thread pitch – 4M x .7; Length: .59″/15mm
Thumbwheels: Diameter: .63″/16mm; Thickness: .109″/2.77mm
Only 1 left in stock. Almost Gone!
#3047 BSWKIT™ Gloss Nickel, conversion posts for Gibson® with Nashville and Heritage® with Schaller bridges
$32.00
IMPORTANT: Please view INSTALLATION INSTRUCTIONS BEFORE ordering this product!
Our best sustain enhancing bridge posts for Nashville conversions!
Jared from St. George, chris from Malibu & 2 others
bought this item recently.
Hassle Free Returns!
No questions asked, 30 days return policy
Fast Shipping!
All orders are shipped same or next business day
Secure Checkout!
SSL Enabled Secure Checkout