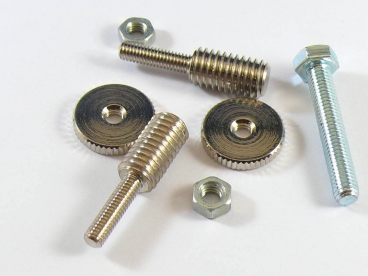 Description
What's This For?
Nashville bridge conversion studs
Works with Faber® ABRN or Faber®Tone-Lock™ Bridge
New builds, where more mass than thin studs (6-32 or 4mm) is desired
Professional installation recommended
SPECIFICATIONS:
Material: Studs, Steel, plated; Thumbwheels, Brass, plated
Weight, pair with thumbwheels: .695 oz./19.7g
Overall length: 1.18″/30mm
Lower portion: Thread pitch – 8M x 1.25; Length: .59″/15mm
Upper portion: Thread pitch – 4M x .7; Length: .59″/15mm
Thumbwheels: Diameter: .63″/16mm; Thickness: .109″/2.77mm
#3047 BSWKIT™ Gloss Nickel, conversion posts for Gibson® with Nashville and Heritage® with Schaller bridges
$32.00
IMPORTANT: Please view INSTALLATION INSTRUCTIONS BEFORE ordering this product!
Our best sustain enhancing bridge posts for Nashville conversions!