Description
What's this for?
ALL USA made Gibson® guitars with stoptails
Most other USA made guitars with stoptails
5/16-24 thread pattern
Guaranteed increase in sustain!
Specifications:
Material: Steel, plated
Weight (pair without spacers): .88 oz./25g
Overall Length: 1.378″/35mm
Thread length: .906″/23mm
Thread pitch: 5/16-24
Head diameter: .51″/13mm
Head thickness: .157″/4.0mm
Spacers, two each: diameter – .51″/13mm; thickness – .099″/2.5mm; .157″/4.0mm; .217″/5.5mm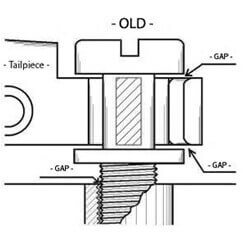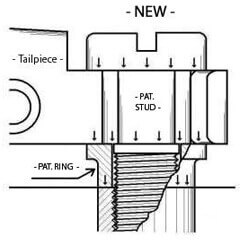 Only 1 left in stock. Almost Gone!
#3004 Tone-Lock™ (INCH) Gloss Gold, For Gibson® and other USA made guitars
$46.00
This is the best and most innovative tailpiece locking system available today and the best sustain enhancing product you can buy for your stop tailpiece equipped guitar!